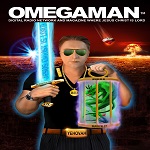 OMEGAMAN  ™
Digital Internet Radio Station and Magazine, Established 2010.
Home of the Marathon Broadcasts and where Jesus Christ is Lord!
 1-319-527-6080
Broadcasting Nightly Mon-Fri
4pm-10pm PST
5pm-11pm MTN
6pm-12am CST
7pm-1am EST
Zelle Address:  omegamanradio@protonmail.com
Bitcoin Address:
3LajtBu7FEPB4oBdd2TLm1rzhYMzfDndhh
Mailing Address:
Shannon Davis
9030 W Sahara Ave Ste 665
Las Vegas, NV 89117
Make checks or M.O. payable to: SHANNON DAVIS
Download a PDF of OMEGAMAN Magazine
Win Worley Mass Deliverance Video
Derek Prince 30 Lesson Bible School
Get trained up by going thru the Derek Prince Ministries Video Bible School – it is free and only 30 classes and in multiple languages. Start your school tonight!:
WRW Publications
Home of Win Worley Books, Videos, Audios.  The Advanced Course of Deliverance.
Jozef Jasinski's School of Deliverance
The Top Deliverance School in the World
The True Name of God has been recovered. It is YEHOVAH.
Watch this awesome video documentary which examines the named of LORD, YAHWEH, G_d, HA SHEM, ELOHIM, ADONAI and then uncovers the True Name of God.